I have spoken at a few conferences and run a few workshops, and do really enjoy it. Details of talks and workshops below. If you'd like me to speak or run a workshop, do please get in touch. Thanks!
Slides from a talk I gave at a London D3 Meetup on July 23rd 2013.
Full details up on the Refined Practice website

Slides from my October 2nd 2012 talk at the StrataConf conference as part of the Ignite event. I discuss my findings from analysing how people search for News and Politics for the BBC.
A longer write-up of the research and the talk itself can be found here: BBC Research: Analysing 2.5 Million News and Politics Search Queries.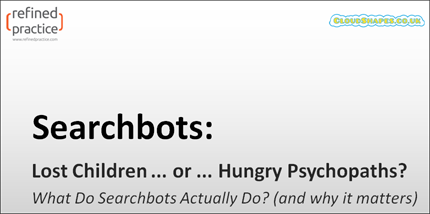 Slides from my April 13th 2012 talk at Brighton SEO are available at /about/talks/brighton-seo-visualising-searchbots/. I discuss how we know which URL's searchbot's request, how we can simply visualise these requests, and how we can help search engine robots really find all our content.
A write-up of my experience at the conference including a video and a lovely swirly picture of me speaking can be found here: Searchbots, Lost Children and More.
I spoke on an expert panel, "Killer Keyword Research", at another conference in April 2012, this time the ionsearch conference, April 18th 2012 in Leeds.
Slides are available at: /about/talks/ionsearch-killer-keyword-research/
There's also a blog post on my experience of talking at ionsearch here: Relevance Analysis, Keyword Research and Searchbots.